Scientific Research Station LIPOVICA
Institute of Forestry established the Scientific-Research Station (SRS) `Lipovica` in cooperation with Srbijašume in 2007.
The SRS `Lipovica` conducts experiments in the field of seedling production, selection, reclamation, protection of seedlings, tissue culture, soil science and soil microbiology, etc. The Archive of forest fruit trees has been established within it. Its aim is to preserve the gene pool of our native tree species. This archive provides a basis for future nursery production of forest fruit trees within the concept of restoring these species as a basic step necessary for the normal functioning of forest ecosystems. There is an office building within the station.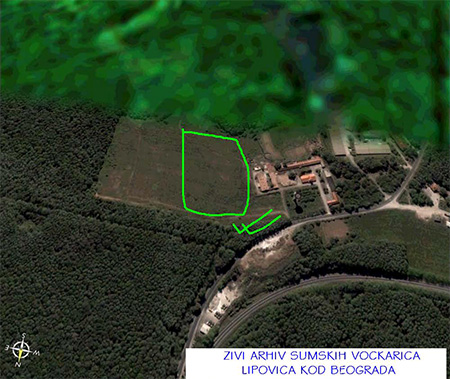 The Archive of living forest fruit trees is the result of the project "ESTABLISHMENT OF THE ARCHIVE OF FOREST FRUIT TREE SPECIES IN SERBIA" funded by the Ministry of Agriculture, Forestry and Water Management - Directorate of Forests. It is located in Lipovica forest near Belgrade and currently has 287 seedlings and 14 species. The establishment of the living archive of forest fruit trees has contributed to the conservation of the gene pool of trees from the entire area of Serbia in one place. This is particularly important for the conservation of species with a narrow range of distribution, relict species (e.g. chestnut, Turkish hazel), genetically endangered species (e.g. wild cherry, walnut, hazel) and species that are not disease resistant (apple, pear). This method of gene pool archiving is valuable because it enables production of new hybrid plants (e.g. crossing between different ecotypes or varieties) that can be the basis for new selections and varieties.
Lipovica - Archive of forest fruit trees, sample plot 2014.